Warranty / Repair service
If you have a complaint, need to have your knife repaired or simply need to sharpen your knife, please note the following points (see warranty).
Sharpening service
You are welcome to send us knives (except scissors and knives with serrated edge) for regrinding with your return address.
Sharpening is free of charge for your Felix knives. The prices for other knives are between € 10,- and € 12,- gross, depending on the length of the blade.
Postage will be charged separately.
Include a letter with your complete address (incl. email address and phone number) describing the complaint or the processing request. Please understand that we cannot accept shipments sent freight collect.
Repair service
Costs on a time and material basis. Please ask for our quotation.
Shipping to:
Felix Solingen GmbH
An den Eichen 6
42699 Solingen
Tel. +49 212 23140-302
Mail: info@felix-solingen.com
Sharpen & Care
FELIX knives are sharp. And that for a long time.
Depending on the frequency of use, the sharpness of a blade decreases over time. Professionals and hobby chefs pull off their knives briefly before and after each use, i.e. sharpen their knives regularly. With a little practice, even amateurs will succeed. Of course, you can also send us your FELIX knives (except scissors and knives with serrated edge) for sharpening at any time. This service is free and ensures that your knives are as good as new after sharpening.
High-quality knife blades made of blade steel react sensitively to food leftovers and to cleaning in the dishwasher. In addition, the blades become blunt when cleaned in the dishwasher. Clean your knives by hand. After use, simply rinse briefly with warm water, dry, done. Additional protection for the blade is the care with camellia oil. The antibacterial knife care cloth with silver molecules also cares for and protects the knife blade.
Wood is a living natural material and loves a little care. Rub the wooden handles of your knives with a few drops of oil from time to time. We recommend linseed oil. In this way the wood retains its original beauty and individual charisma.
Download instructions sharpening steel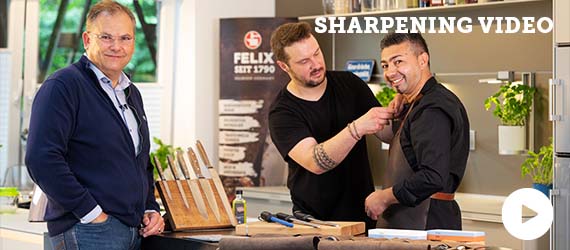 Sharpening instructions for whetstones 400/1000 and 1000/3000
(valid for knives ground on both sides with the same grinding angle)
First place the whetstone in a container with water for approx. 5-10 minutes. The optimal saturation of the stone with liquid can be recognized by the fact that no more air bubbles rise. It is also important to moisten the stone again and again during the sharpening process, as the mixture of water and abrasive stone surface acts like an abrasive. For sharpening, the stone should be placed on a non-slip surface (such as a wet kitchen towel). First the coarser side of the stone is used.
Move the knife blade across the cutting edge with slight pressure, maintaining an angle of 15° forwards and backwards over the entire surface of the stone. Please note that only sections of the knife edge from the tip to the end are machined as described above. Continue machining on one side of the blade until a fine burr is obtained.
Now switch to the other side of the blade and repeat the procedure described above. Repeat these steps several times if necessary.
Keeping the angle of 15° during the entire grinding process is particularly important.
For a perfect surface quality and cutting performance of the knife, the processes can be repeated on the finer stone side.
To remove the last burr, pull the knife blade towards you 2-3 times diagonally over the entire length of the cutting edge in one pull.
Clean the knives carefully with hot water. Rinse the whetstone and remove the grinding mass.
The stone should be completely dry before being placed back in the wooden box.
Bread knives cannot be sharpened properly on these whetstones.
PRODUCT INFO - FIRST CLASS PRODUCTS

For these high-quality knives we only use top materials such as POM (plastic), various tropical precious woods and up to 1,000-year-old olive wood, obtained from limited deforestation and reforestation under state supervision. The processing takes place with food-compatible and biological materials.
USE AND CARE OF FELIX KNIVES

As FELIX knives are made of high-quality materials, we recommend that you clean them only by hand. Therefore, clean your knife regularly after use with hot water and dry it carefully. This way, your knife is always ready for use!
Knives with wooden handles require special care. To make sure that you enjoy such products for many years to come, we recommend that you carefully dry the handles after cleaning and apply FELIX camellia oil after prolonged use.
Do not use your knife for cutting things other than it was designed for. I.e., do not chop bones or cut frozen food with a carving knife. Never use a knife, for example, as a can openeror screwdriver and use soft materials as a cutting underlay, such as, for example, our wooden boards.

After regular use, your knife can be easily resharpened on a sharpening steel. This will ensure easy cutting and constant cutting results.To guarantee highest cutting performance your knife should be extremely sharp. Do not store your knife in a drawer unless the knife is covered with protection guards or sleeves and keep it away from children. We recommend storage in a FELIX wooden block or on a FELIX magnetic stand.
5-YEAR LIMITED WARRANTY FELIX SOLINGEN KNIVES
FELIX Solingen knives, produced by FELIX Solingen GmbH, Solingen – Germany, carry a 5-Year Limited Warranty against manufacturing defects. Under this warranty, FELIX Solingen GmbH will repair or replace any product we find to be defective in its original material or construction for a period of five years from the date of purchase. This limited warranty does not cover normal signs of wear, wood handles, rust, or damage/breakage due to improper use.
To receive warranty repair or replacement, the owner must send the product to be evaluated by FELIX Solingen GmbH, Solingen - Germany. In addition to the provisions of this warranty, you may also have other rights that can vary by state. No other warranties are implied or expressed other than what is specifically stated here.